Offerings
ROBOPLAZMA PLATE & BEAM SYSTEM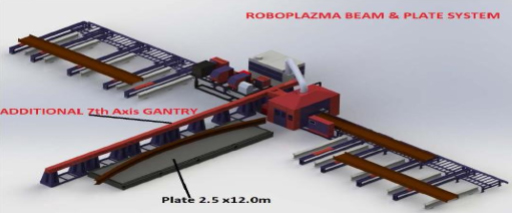 Features:
World's first & only plate & beam plazma cutting system.
Single System that offers 2D and 3D cutting capability.
Shop floor tested Innovative design having more than 12 patents.
Single RoboPlazma replaces Band Saw, Drilling, Coping, Notching
Slotting, Pipe & Tube Cutting, Marking & CNC Plate cutting.
Faster, smarter, and cost effective solution transforms plant throughout.
Vibration free Moving Cantilever design delivers precision & smooth motion.
Modular Hardware enables system expandability.
Just 3 click software powering a machine that grows with user.
Independent Measuring System give high accuracy.
Underside processing without additional Robot.
All side Square tube processing.
Large Plate Cutting 2.5 x 30 Mtr. with weld edge preparation.
Complex geometries like Mouse Hole being processed which are not achieved by competition.
Pipe Cutting: Only system in the world where the pipe is cut without rotation.
Pipe processing.
Welding.
Curved Beam/ Pipe processing.
Dish End.
3D Assembly.
Capable of marking Lay Out, weld Lines & part Numbers without Tool change.
This is an intelligent fully robotically interfaced material handling system.
Down draft fume extraction table for plate cutting and Unique design of system enclosure takes care of Ibeam cutting fumes efficiently.
ROBOPLAZMA BEAM SYSTEM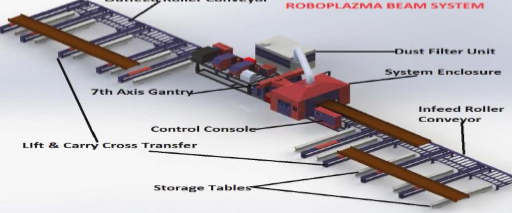 Features:
A cantilevered moving Robot able to reach all sides and areas of the job
This opens up opportunity for customers for underside processing Square Tubes, Pipes and complex geometries without investing for additional robot, chucks or pipe rotators.
Single machine solution to fabricate I Beams, Channels, Angles, Tubes, Pipes and also Large Plate processing.
Intelligent, cost-effective and flexible system gives you potential to meet multiple customer needs.
Produce high quality Bolt Holes, approved by AISC and CISC.
Bolt Hole sizes 2xThickness above 12 mm plate, No tool changing required.
Produces all Standard and Non-Standard Copes.
Produces Miter Cuts, Compound Miters and Double Compound Miters.
Pipe Straight cut and Straight bevel.
Produces Square Tube Slots for Knife connections.
Beam Splitting and Beam Castellation.
Produces lay-out on all sides.
Processing Standard copes.
Plasma Marking with all alpha numerical characters.
Pre-Measures the raw material prior to processing.
Probing of the raw material for mill tolerances and automatic adjustment.
Scalable to Plate and beam system as your business grows.
Flats size of 1000 mm width processed on Beam system for various 2D profile and shapes.
Material Handling System
Plasma Fume Filter
FIXED BASE ROBOT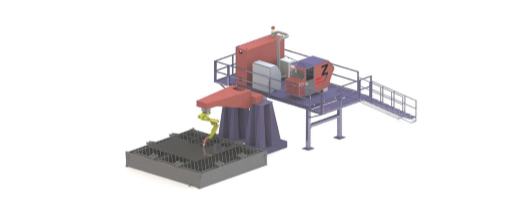 Features:
Cost effective modular configuration of RoboPlazma system. A Fanuc, Japan make Robot mounted on fixed cantilever arm, interfaced with Plazma power source.
This system is widely useful in Automobile industry for 3D component trimming and cutting, 2D and 3D jobs. No longer are trimming dies required for prototyping development.
Reads direct CAD input and cut the formed sheet metal component. Effectively eliminating long lead time to manufacture trimming dies and enabling finished products to be launched faster.
With a RoboPlazma work cell being used for production, any change of model or alteration, is just a question of programming; avoiding expensive retooling.
From fixed robot, the system can be scaled up to moving cantilever RoboPlazma configuration. As your business grows, the systems grow with you.
HOT PLATE CUTTING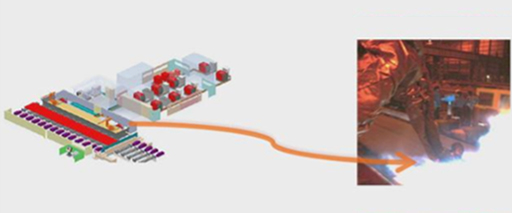 Features:
Embedded with a plasma torch design that performs precise metal cutting at red-hot temperatures
Mounted on an 8 axes robot
Governed by proprietary self-calibrating software that governs the operation, diagnostics and troubleshooting eliminating the complexities of controlling a cutting system
Engineered with a systems interface compatible with current steel production systems that facilitates the line integrations process and minimizes production disruption
World's first robotic unmanned self-intelligent red-hot steel cutting plasma system
Interface compatibility with steel mill online systems reduces system integration time.
The system has built-in intelligence to compensate for plates' shape fluctuations, eliminating inaccuracies in cutting.
The system software can command the robot to perform multiple subsequent uninterrupted cuts in material of different dimensions. Proprietary torch nozzle system allows precise cuts minimizing material yield loss.
Automation eliminates the need for direct operator interaction, no safety risks associated with the processing of red hot metal.
ROBOPLAZMA LARGE PLATE PROCESSING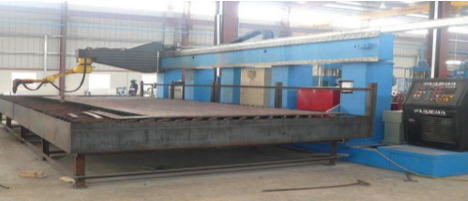 Features:
It is manufactured with highest quality standard components such as FANUC Robots, Plazma Power Supplies, GUDEL Precision Rails and is controlled with a user friendly RoboSwift Software interface that accepts DSTV files. All axes are Servo driven for precision and accuracy.
Large Plate Processing capability ( expandable up to 30 mtr Length)
Auto Nesting and cutting.
Automatic alignment of plate.
Stitch Cutting capability.
Single & Double Bevel.
Consumable life monitoring system with cutting interlock
Touch and Edge sensing thru Plazma torch.
Auto Torch Height Control thru AVC tracking.
Operator's friendly "RoboSwift" Software.
Expandability of "Roboswift" to plug in with scheduling software.
Flexibility for new 3D job cutting.
Weld Edge Preparation
Beveling operation on different type of jobs can be carried out such as, Linear bevel on Plate, Circular contour beveling, Single / double bevel, 'V' Bevel with root with root, Flanges and web bevel of I Beam, Pipe, Beveling, 3D assemblies bevel.
First system manufactured worldwide, capable of processing all structural shapes; also scalable, can be upgraded to cut large steel plates i.e. 2.5 x 30 Mtr. (using additional gantries).
Combination of multiple processes on a plate with RoboPlazma™ eliminates repeated material handling and multiple machine setups, which leads to an increase of the entire plant throughput.
Roboswift software automatically calculate the optimum base position of the robot for complete nesting capability.
Estimated Work envelope with this configuration is 1.2 M x 30 M applicable for 2D/3D cutting, Single "V" with root beveling with larger work envelope for hole, slot, pipe, channel, Ibeam cutting.
ROBOSWIFTTM SOFTWARE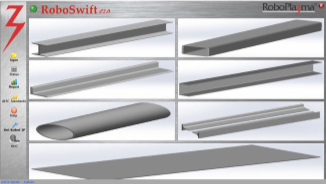 Features:
RoboSwift™ is a software solution conceptualized, designed and developed by Plazma Technologies Pvt. Ltd. India to operate with RoboPlazma™. RoboSwift™ software along with RoboPlazma™ delivers a solution for robotic plasma metal cutting with minimal human intervention, controlling by itself the myriad components that work in the machine.
RoboSwift ™ works inside the controller to minimize the errors of the robot.
The operator needs zero robot programming knowledge.
Operated on a touch screen through simple and intuitive graphical user interface. It requires no robotic or other programming knowledge to operate.
CNC PLAZMA CUTTING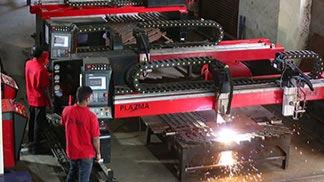 Features:
Plazma has developed a X-Y Robot (CNC-Plazma) system for 2D nested cutting application.
System is designed like a Robot with separately located 4 axis Fanuc controller for high reliability and rigidity at highly competitive rates.
System comes in width of 4M, 6M and 8M; to cover entire range of plate sizes from plate width of 3M to 6M. Length can be increased by adding Y Axis modules up to any length required.
The system has been provided with auto torch height controller through arc voltage and touch sensing for piercing point.
Multiple gas stations are also provided as per customer requirements.
TROLLEY CUTTING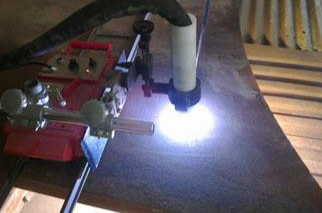 Features:
Plazma's unique US Patented "PIETA" mechanized torch mounted on simple linear trolley
Used for linear & circular cutting up to 100 mm thickness.
Provides faster cutting speed, better cut quality and longer consumable life hence highly economical solution for all steel plates.
Four Wheel stable Trolley.
High Speed 2000 mm/min with dual Speed setting.
Long Slide Arm for horizontal torch movement.
Fine adjustment for vertical slide.
2Mtr long MS rail.
Cutting accuracy +/- 1mm.
Bevel capability.
HAND CUTTING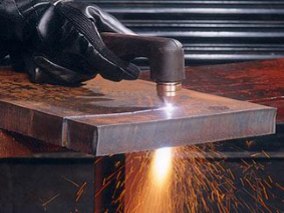 Features:
The US and worldwide patented Plazma torch technology combined with a rugged non-electronic power source presents the most reliable metal cutting tool.
Extremely compact from 1mm to 75mm thickness provide capacity, reliability, ruggedness, economics and job repeatability in continuous production.
Small size, light weight and easy to operate
Water Cooled Design
Stainless steel electrode housing
Concentric & self aligned consumables
Non metalic cover
Safety remote switch
CE-certified torch